Palukere Primary School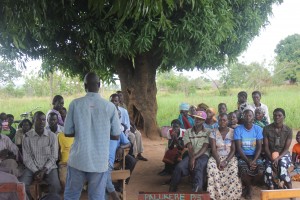 Palukere Primary School located in Amuru, northern Uganda, within the parish of Palukere. The school is proving to be extremely popular in the local community, with 306 girls and 357 boys currently enrolled; a significant increase from the 511 students in attendance back in 2011! A reason for its popularity may be its excellent management, under head-teacher Apuke Cosmas' leadership. Indeed, the school boosts both a school management committee (SMC) who were trained by Amuru's local government, and a parent-teacher association (PTA) who meet twice a term.
The school has been hugely supportive of our school garden programme, even donating a portion of their 5 acres of land for it, and now teachers are growing their own crops! Our support staff have been working with group members to grow appropriate crops like sim-sim (sesame), sorghum, cassava and lapena. We have also been providing training on good agronomic practices, organic farming, and are working to strengthen the group's market links in the locak area to boost profits. The school garden members have also joined a VSLA (Village Savings and Loan Association), where members meet regularly to save together, and to access small loans when they are in need, such as when school fees need paying.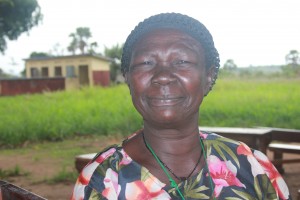 Contansia is one of the group's members, who walks 2.5 miles every Tuesday to work in the garden. Contansia currently has three children enrolled at the school and, like most parents, she is a farmer, growing cassava, sorghum and sim-sim, which she then sells to pay school fees for her children. One of the things which attracted Contansia to our school garden programme is that promoting children's well-being is at the heart of all the work:
"It's going to help us a lot because we heard that the children are being supported by these projects. I am going to take this knowledge to my home and it will help me a lot in the future; I will be continuing to support my children as far as school fees are concerned because I want my children to have knowledge and study".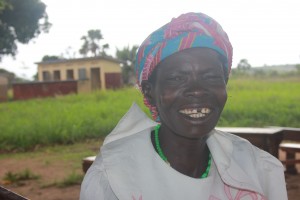 Rose is another farmer who lives about a mile away from the school, which her four children attend.  She grows mangoes, sugar cane, cassava, maize and groundnuts which she sells locally. Sadly, Rose's husband passed away several years ago, so Rose is often unable to bring in enough income to meet her family's basic needs. This is one of the reasons Rose decided to join the garden group: "I just thought that working as a community group can make a difference more than being alone, because I don't have my husband, I thought of joining the group to support my children. I just know togetherness is something that is very good." 
For many schools in Amuru, ensuring that children have enough to eat remains a real challenge. Although the school provides meals to the school's oldest class, the rest of the pupils are required to bring their own lunch, or bring some small change to purchase a snack. However, currently only 25% of pupils bring food to school, because their parents simply can't afford to provide it. With so many pupils going hungry on a daily basis, it is little wonder that excelling academically can feel like an up-hill struggle. Our hope is that a portion of the harvested crops from the school garden – alongside donations of beans or posho from parents – will be given to the development of a feeding programme, whereby the school provides its pupils with a hearty midday meal, which will undoubtedly improve concentration and energy levels!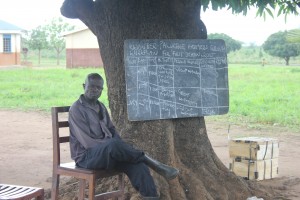 As well as the parents' garden group, our livelihoods team also recently mobilised a student agriculture club at the school, which has already attracted 50 members who are interested in learning more about agriculture and growing their own crops. This empowering club will not just generate profits to enable students to buy scholastic materials, school uniforms, or a lunchtime snack; it is also equipping them with practical agricultural skills, and bolstering their academic knowledge of earth sciences.  As such, if children are unable to continue their education beyond primary school, they will leave school with excellent practical skills to successfully support themselves through agricultural activities. We hope that with our team's support, the school garden reaps abundant harvests which will enable the local community, and particularly their children, to thrive.