Otong Primary School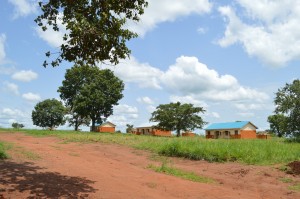 One of the schools where we have implemented our school demonstration garden programme is Otong Primary School, in northern Uganda's Amuru district. Agriculture is the key livelihood strategy for Amuru's predominately rural population; 98% of the district's population is reliant upon farming for their income. Although 90% of the district's ground is arable and fertile, in recent years, harvest yields have been disappointing due to changing weather patterns.  Through our school demonstration gardens, our livelihoods team has been providing training on best agricultural practices, to optimize crop production and improve food security.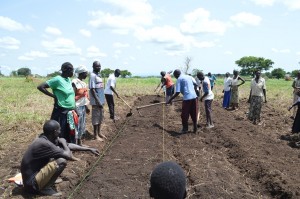 The school, which currently has 460 pupils, has been extremely supportive of the project and has donated a sizeable piece of fenced land to the garden group, who have named themselves Unity is Good for Education Garden Group. The group elected community member Fred Ramono to be their chairperson, and he is relishing his new role: "It is really motivating and interesting, I love managing the group. Everyone is very hard-working, cheerful, motivated and united, so it is really making my job very easy – we are working well together. It is exciting to be learning so much. Aside from agricultural skills, as the chairperson, I am learning lots about leadership, creating work plans, and management which I am really enjoying."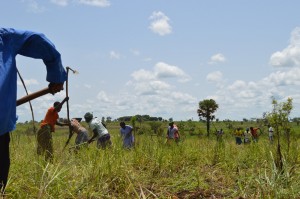 Since the group was mobilized in March 2015, the farmers – supported by the African Revival livelihoods team- have been working hard to draw up a work-plan, and prepare the ground for planting.  Each morning, a different set of parents and community members can be found in the garden, working on the land until the sun becomes too strong around noon. Each Tuesday morning, our staff visit the garden, and teach agricultural techniques to help build the farmers' practical skills, which will improve their own harvests at home. The group decided to grow passion fruit, banana trees, onions, and beans in the school garden; these were recently planted when the rains began in May. The passion fruit trees are already growing well with the branches coiling around the home-made trellises, and the onions are safely nestled in nursery beds complete with covers carefully made by the group.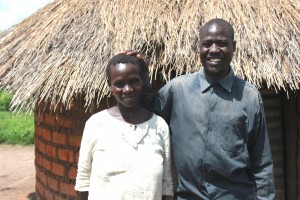 One of the group members is Samuel Okide. Samuel is a local farmer, who lives near the school with his wife Concy and three children: Patrick, Denis and Mercy. Samuel grows rice, beans, cassava, and millet at home. Currently, Samuel's crop production only just covers his family's basic needs – if the planting season has been too hot or rainy, many of his crops fail and the family struggles to make ends meet. However, since joining the garden group, Samuel tells us that he is using his new skills to apply to his own gardens to improve his own crop production: "I am learning a lot of new knowledge in farming.  I am used to planting but here, I have been learning to settle the land before the 2nd ploughing, how to prepare nursery beds, and knowledge about seeds. The things I am learning, I am replicating at home so that my wife too can learn, and can pass it on to the children, so the entire home will benefit from this training- we will always have this knowledge".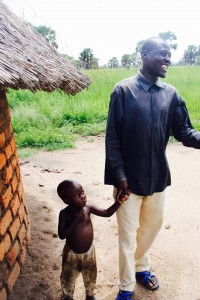 As well as gaining new skills, Samuel feels that his increased involvement in the garden is contributing to his children's improved performance. Prior to being part of the school gardens, Samuel would only visit his children's school twice a year: to pay fees, and to attend the annual school meeting, but Samuel tells us that "Now, I am always visiting the children's classroom. Involving myself in the school is helping me monitor my children better – sometimes, the children leave for school in the morning, but they actually dodge classes. With my presence in the garden, the children's attendance has improved, and they even did better in their exams this term because of this".  How is Samuel planning to spend the profits which will be generated though the school gardens? "I am a very motivated parent, and I take my children's education very seriously – and so, whatever money I get I want to use for my children's fees, and scholastic materials."
Samuel works alongside over 40 farmers in the garden, including Margaret Aber. Margaret's primary source of income is through farming, which she does alongside her husband, Sarafino. Together they grow rice, ground nuts, sweet potatoes, cassava and millet. In spite of their hard work in the fields, Margaret has struggled to produce enough sellable crops to meet her family's basic needs. During poor harvests, putting food on the table is, a real challenge, let alone paying for school fees for her four children: Betty, Denis, Christopher, and Richard.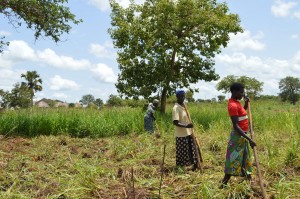 However, through the school garden group, Margaret is learning new skills which she feels will increase her income: "I am gaining a number of new skills; we are planting crops, like passion fruit, I have never grown, so I know have broader knowledge of different enterprise crops, and can now plant them at home". Indeed, although the project is young, Margaret is already applying the skills she has learnt in the school garden to her garden at home and tells us: "I have been replicating everything I have seen step-by-step so I am hoping that my home I will become a learning centre for other people. I am so motivated to use my knowledge to teach others."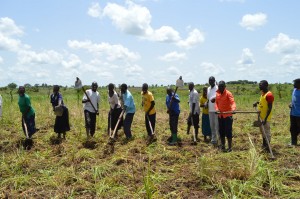 Margaret is confident that being part of the group will eliminate the struggle to pay school fees, and plans to save any proceeds she earns from the school garden for this purpose. Margaret is hugely committed to her children's education and once our student's garden clubs have been mobilized, Margaret plans to "make sure the children become part of the club so they too will benefit from the training. That way, if the children leave school, they will be able to use these skills to support themselves through their own farms. However, I think that because I am able to monitor my children more through this scheme, their attendance and results have improved, so is contributing towards retaining them in school".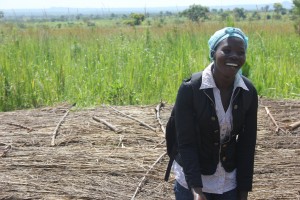 All our programmes ultimately stem from our desire to ensure equal access to quality education. As such, enabling parents like Samuel and Margaret to pay school fees through school gardens is absolutely fantastic. In the future, our livelihoods team will be mobilizing student garden clubs at Otong, which will provide students with the opportunity to learn agricultural skills, and build their business acumen through selling the produce they grow in the garden. The children will be able to enjoy a portion of the profits, which they can use to buy scholastic materials. Our hope is that, if they are unable to pursue secondary education, the children of Otong Primary School will leave primary school empowered and capable of building their own agricultural micro-enterprises to build bright futures for themselves, and their families.