Nwoya Public ECD Centre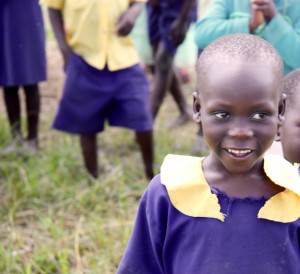 Hidden behind long grass, a lovely hand-drawn sign makes you aware of this little school, located just off a main road in the Nwoya district, Northern Uganda. The school was founded 5 years ago and the number of pupils has nearly doubled now, amounting to 63 pupils. All of them are full of energy – hopping around, laughing and talking cheerfully, whether it is while enjoying their cup of porridge or in class.
Fortunately, there are motivated and committed teachers, Doreen and Stephen, and headteacher Jackeline, who know how to deal with so much energy by keeping the children entertained with lots of dances and both inside and outside learning games. Stephen's micro-innovation of daily morning parades, where students sing songs, perform traditional dances, and narrate stories, was even among the 50 top micro-innovations of the STIR Education's recent micro-innovation competition. In addition, they are also a good team, happy to enjoy some lunch together and chat after a school day.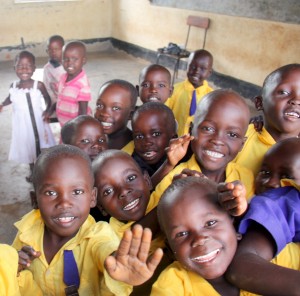 The school has one main building with two classrooms and an office, and a hut for support. However, as there are three levels of nursery (K1, K2 and K3), they have been struggling with having to teach K2 and K3 together in one classroom. As a result, parents decided to get together and built a provisional hut. We are excited to see how our community sensitisation work seems to have initiated a good level of parental engagement: parents also come to clean and tidy the environment around the school once a week, or come together to create learning materials out of local materials such as dried banana skin. Furthermore, they have also appointed a community chairperson for the school and established a Village Saving & Loan Association (VSLA), from which parents who cannot afford school fees are able to receive loans to pay them.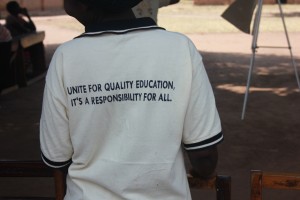 Despite good parental engagement and everyone's commitment, the school is still struggling in regards to the provision of quality learning and playing material and furniture. Another challenge is their lack of a clean water supply close to the school, as the closest well's water is polluted. Nevertheless, the positive and motivated spirit and attitude of people from Nwoya Public Nursery School is without doubt inspiring. They truly want, and are trying their best, to give their children the best start possible – we are happy to be working and supporting communities like this and we hope you join us!