Koch Lila ECD Centre
Koch Lila ECD Centre – situated in northern Uganda's Nwoya district – is one of our partner jumpstart! nurseries; we have been working together since February 2015 to transform the centre into a thriving learning environment for its 57 young students.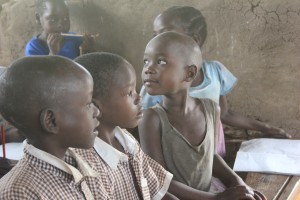 With nursery education still building momentum in Uganda, Koch Lila – like many other rural nurseries – is very basic, both in terms of infrastructure and learning materials. However, that doesn't mean that the school doesn't positively impact its pupils; there is much here more than meets the eye. Once you look beyond the simple structures, the potential of this centre is all too apparent, thanks to the dedication of the nursery's head teacher, Katherine, who recently qualified as a ECD teacher, and has been working hard to implement her knowledge into improving the teaching quality at the nursery.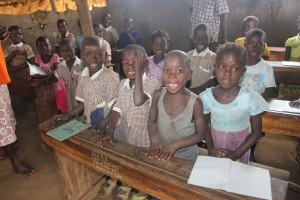 The ECD centre is currently spread out across the grounds of Koch Lila Primary School, located 15km off the main road from Koch Goma sub-county leading to the centre of Nwoya district. The K1 pupils' "classroom" is outside, under a hand-made thatched shelter; the 14 children sit on a plastic blue mat as their teacher, Katherine, conducts their lessons in front of a large piece of blackboard. Currently, the children are learning to recognize and form letters – which they practice carefully in their exercise books, making sure they keep their letters within the ruled lines. Although this learning environment may seem rudimentary, the K1 learning space actually represents a positive step for the school. Several months ago, the K1s were taught together with K2 pupils, which was not conducive to productive learning, particularly for the youngest children who require a little more attention and support. As such, although the K1 students are now taught in a more basic space, they now have their own teacher – Katherine – who can focus all her time and energy on their lessons, and the children are less distracted by the activities of their older peers.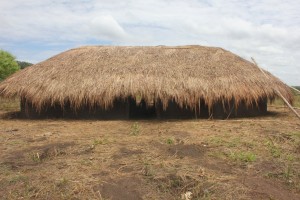 The K2s' classroom is a small thatched hut. When we first began working with the ECD centre, this classroom was bare and empty. However, K2 teacher Lillian, whom we have sponsored through ECD training, has re-arranged her classroom so that her pupils now sit in groups, known as "island sitting". Lillian tells us that the children like to "participate in groups; they do their exercises together- they like it, working in teams. So, I have introduced this sitting arrangement which also helps their socialisation."  The bare brick walls are now simply a back-drop for the bright, home-made learning posters which Katherine has been making during our workshops. Lillian has also hung strings of letters and numbers across the classroom to support her pupils' learning.  These resources seem to be effective as the children can now confidently sing their ABCs perfectly; they don't just know the song, but they point to the appropriate flash card as they go through the letters! Lillian is delighted at her pupils' tremendous progress, which she attributes in part to her new-found skills as a teacher: "After receiving training facilitated by African Revival, teaching became easy because I can now interpret the Learning Frame Work, I can assess easily which competences matches which age bracket. I also learnt how to produce learning materials which has enabled pupils to learn easily and better".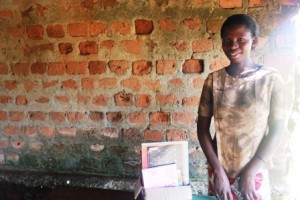 The centre's K3 pupils' lessons take place in a large hut which also serves as the school's church; although dark, there is plenty of room for the 27 students to run around and interact with one another. The pupils are taught by the centre's head-teacher, Katherine, who joined the school in 2013. Although Katherine's pupils can now all read and write their own names, the children are not just developing well academically, but also as individuals. The first thing which we noticed about these pupils is that they are bright-eyed and confident as they work and play together. Katherine has nurtured a learning environment where children can be themselves and feel assured that their contributions to lessons – whether right or wrong – are of value. These hard-working children have overcome several challenges in order to succeed at school; notably, their tables and chairs are meant for primary school pupils, and are therefore too big for them. As such, activities like writing practice requires them to stand up and hunch over tables. As part of jumpstart!, we will be working with our partner nurseries over the next 3 years to ensure that the centres are equipped with age-appropriate furniture to enhance learning.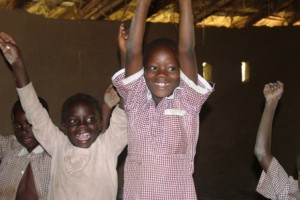 We are all delighted to see the significant improvements to the nursery already, but perhaps one of the most exciting developments for the children at the school lies within a cardboard box outside the K2 classroom: toys which were made by the teachers using local and recycled materials during our work-shops! An empty oil container, several bottle tops, some string… and voila! A pull-along toy car! Ensuring that nursery children have plenty of time for creative free-play is a fundamental aspect of promoting a child's early development, and so it is wonderful to see children enjoying playing with these new toys during break-times. At African Revival, our goal is positively impact nurseries in a sustainable manner, and so by developing caregivers' soft skills, and introducing low-cost learning and playing materials using local and recycled resources, many, many more nursery children will be able to benefit from these skills, and materials in the coming years.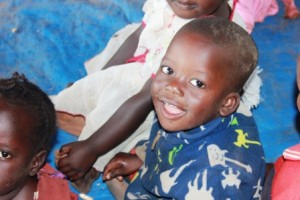 The primary school's deputy head-teacher George told us that the school leadership is extremely encouraged by the nursery children's progress. George is convinced that once the children progress to primary school, they will be well-prepared to succeed academically in comparison to children who have not had the opportunity to attend an ECD centre.  Although Koch Lila Nursery School is relatively small, our hope is that, through its remarkable young pupils, the local community will be more convinced than ever of the value of nursery education, leading to increased enrolment figures- meaning that more children at Koch Lila receive their Jumpstart towards the bright future they deserve.