Koch Goma ECD Centre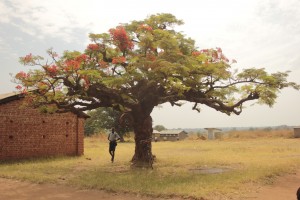 Located on the premises of Koch Goma Primary School, Koch Goma Early Childhood Education (ECD) Centre is set in a beautiful location. The school grounds are well kept and swept daily; pink and orange flowers line the entrance of the school, the Ugandan and school flags ripple in the breeze, and inspiring slogans painted on wooden plaques are displayed all around. As one can imagine, this school provides a wonderful learning environment for all its students.
103 students are currently enrolled at Koch Goma's well-staffed ECD Centre, which is served by four dedicated teachers led by director Esterina, head-teacher Gloria, and teachers Stella, Gladys and Susan. Classes are held in a block consisting of three small classrooms. The rooms are dark, and lack sufficient desks and chairs, so some children have to sit on the hard floor during classes. For this reason, the teachers try to bring the children outside into the fresh air and sunshine for activities and lessons whenever they can. In particular, the young pupils love competing with each other in running competitions!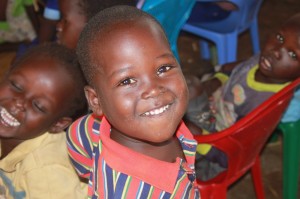 Within the classrooms, the teachers have proved to be inventive in creating their own learning materials. Through our jumpstart! programme, we have been working with the teachers to make home-made posters out of brightly-coloured paper, and flash cards adorn the nursery's walls. The teachers also make use of the local (and free) resources at their disposition – such as empty water bottles and soda lids – to ensure that lessons are dynamic and engaging for their young students. The children's timetable is a well-rounded one, which also includes plenty of free-play and a porridge break. For some children, this meal represents their main meal of the day and so they greatly enjoy the sweet, filling portion each morning. When the school day ends at 12pm, the children help to clean up the classrooms by sweeping and tidying away toys, so that it is clean and organized ready for another day of learning.
Gladys, a newly qualified ECD teacher who joined the school last year, teaches K3 and is currently working on five key learning areas with her pupils: the environment, religious education, sounds, numbers, and language. Gladys is passionate about ECD, telling us that "it is important for the children to develop their minds; the children who stay at home, instead of attending Nursery School, lack very basic knowledge, and they lack confidence amongst their peers, and adults. But being here, our pupils happily interact with others through singing songs and learning rimes; these activities are so important for their overall development." As such, Gladys is confident that her pupils will be well-prepared to begin primary school next year.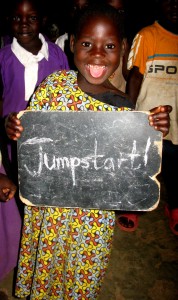 Indeed, the pupils are all energetic and eager to learn, especially through song and dance. Impressively, the nursery students at Koch Goma  all know how to recite the alphabet, the vowels within the English language, the months of the year, and the days of the week; these achievements were all taught through fun songs, which the children sing and dance to in the courtyard. It is clear that the K1 students have made strong progress since beginning nursery school in February 2015. The children have adjusted well to their new routine, and are enjoying participating in the activities which the school offers. Mildred, a student in K1, told us that "I like colouring; I don't have pens or paper at home so I like coming to school to learn how to draw".
Supported by African Revival for several years, Koch Goma is an innovative centre of excellence. Currently, African Revival – alongside our partner STIR Education – has mobilised teachers into "teacher-changer networks"; a forum where teachers within the district gather to share ideas and innovations which they have successfully implemented within their classrooms and across their schools. Moreover, the school has worked extremely hard to ensure the retention of female students, through empowering girls and constructing girls' washrooms. Consequently, all girls passed the PLE exam last year, and almost as many girls as boys are represented in the school's extra-curricular activities.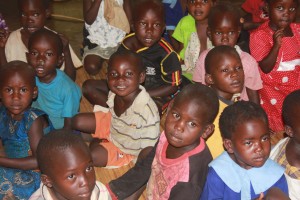 As such, we have every confidence that once the nursery children progress to Koch Goma's primary school, not only will they will be well-prepared to excel academically, but they will also be encouraged to pursue their studies – regardless of their gender – so that their future may be bright and bursting with possibility. Through jumpstart! we hope to positively impact the lives of  many young children in the Nwoya district of Northern Uganda for many, many years to come.