In 2015/16 we have: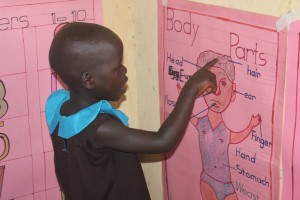 Implemented Jumpstart in 10 nurseries in Nwoya district
Implemented our School Demonstration Garden programme in 20 schools in Abim and Agago
Implement our School Demonstration Garden programme in 15 schools in Amuru District
Constructed 12 classrooms, 3 latrine blocks and 2 teacher houses at schools in both Uganda and Zambia
Provided teacher training to 20+ teachers in Uganda and Zambia
Provided teacher salary support to 2 teachers in Zambia
Provided a solar powered laptop with internet connection to 7 schools
The long-term impact of our work: Maro-Awobi Primary School
Welcome to Maro-Awobi Primary School, a school which holds the status of being one of our model schools. African Revival has worked with Maro-Awobi, a school situated in northern Uganda's Amuru district, for many years. In our early days, we began investing in this small school which consisted of only one classroom block. However, over the years, we have built two more classroom blocks, three latrine blocks, a staff room, two wash and changing rooms, drilled a bore hole, and provided furniture. With 327 pupils (234 boys and 193 girls) currently enrolled, bustling Maro-Awobi is now a far cry from the tiny rural school it once was. In fact, the school has now even introduced extra-curricular clubs likes scouts, agriculture, and debating. For the sporty minded, African Revival has provided the school with a football pitch, and basket-ball hoops. Today, the school is currently part of our School Demonstration Gardens programme, and the parents are working hard on school land to grow bananas, onions, passion fruit, and beans.
Situated 15 km from the main road, the dirt road leading up to the school is lined with tall grass, and bright sunflowers. The breath-taking views of the nearby mountain range and the zesty scent from the lemon-grass bushes provides a great welcome to the school. The large rocks around the school have been creatively used to write positive messages to the students, such as "every child is special"-now that's a slogan African Revival can get behind!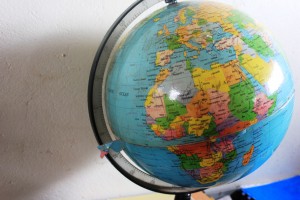 The head-teacher of this model school is Justine Law, who has served the school for two years. The school has seven teachers in total- one for each class. However, the school is in need of an eighth teacher, but until one is provided by the district, the school has recruited two parent-teachers temporarily to support the teachers' workloads. The teachers are extremely committed to the school and its pupils; one such teacher is the senior woman teacher, Margaret, who has worked at Maro-Awobi since 2008. Justine has praised Margaret for her dedication to the school, and in particular, her involvement within the local community, her support of the school's 41 orphans, and in encouraging her female students.
Indeed, the teachers are strong advocates of promoting gender equality in all of the school's activities, and use a specific work plan to address gender issues. The teachers use events like daily assemblies to address gender imbalances, and encourage both boys and girls in leadership, building their confidence and self-esteem. In particular, the school emphasises the importance of nurturing healthy and equal relationships with one another. In addition, Justine carries out frequent community sensitization meetings to promote the retention of girls in schools. Justine explained that "we try to remain close to the community so we can always explain the importance of keeping girls in school- it is good to bring community into schools and they are responding well."  As a result of these efforts and the provision of girls' washrooms, last year, the school only saw 9 female students drop out of classes out of 179 female students. However, the school is hoping that the number of female school drop-outs will continue to decrease year on year.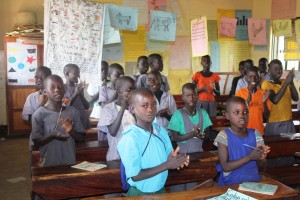 Justine and the school leadership have also been working very hard to bring the school up to a high academic standard, and have made personal sacrifices to ensure that their pupils have the best quality of education possible. For example, Justine wants to ensure that his P7 class are fully prepared for their PLE exams later on this year, which will determine whether they can progress to secondary school. Knowing that many students live far from the school, and may be burdened with many chores at home which cuts into their study time, Justine has moved out of the two-unit teacher's house located on school grounds, so that the children may use the house to board at the school. Justine told us:  "I want the pupils to be able to study, so I moved into a grass-hut so that we could offer one unit for the girls, the other for the boys. The house is equipped with solar panels, so the children make use of the light in the evenings to read, and study." The senior woman teacher, Margaret, looks after the girls, whilst Justine takes care of the boys whilst they are living on school property. Justine is hoping that this solution, coupled with nightly catch-up and revision classes to help fill any of the children's knowledge gaps, will improve PLE results. We are sure that the 53 students taking their exams this year will, with this support, excel!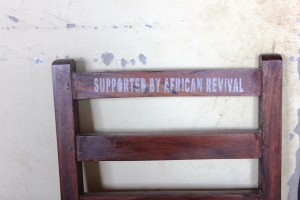 Despite all their innovative efforts, the teachers still have more plans to further improve the school; they plan to implement a school feeding programme as currently, children bring a packed lunch, or if they live close by, take lunch at home. Justine is planning on planting potatoes to contribute to school meals, and once the school garden group harvests their crops, the parents may contribute a portion of the yields to the cause.
It has been an absolute pleasure working with this ambitious and innovative school for almost ten years, and we applaud the school's excellent leadership which puts their pupils' well-being and academic future at the fore-front of all their action plans. Self-sufficient and empowered, Maro-Awobi is a model school which no longer needs our input, and we are sure that the school serves as a positive example to neighbouring schools.