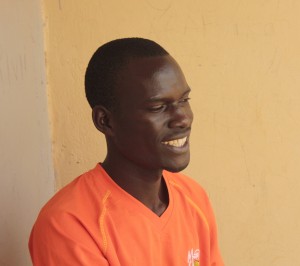 Sunday's story
I never knew my father. I saw him for the first time one Christmas day when I was 10. Those days, there was very little money in our family. My mother would first go to the market, sell some egg plants, pineapples, and other things to get money. Our education was also disrupted because we had to sell sugar cane around Gulu town to make money. But that day, my father brought us many things. He brought for me a very nice shirt, and sodas for us all. In those days we couldn't afford to buy soda.
I see my father frequently now. We are in the same community. We live in the same compound. I'm the one taking good care of him. He had many wives but he prefers to stay with my mum. I've shared with him the challenges that I faced without him. The only support he gave me when I was growing up was shoes. My mother supported me with paying school fees until Senior 4 (equivalent of GCSEs), but she could not pay the school fees after that because she was paying the education of us all. So she said to us 'my children, I cannot afford. If you can get any job elsewhere, if you can go to any institution elsewhere, just go".
In the fourth year I was here as a teacher at the school, I used the money I earned to help my parents. The support I'm giving them is enough to repay them for all they have given me. If they need something I can help them. I buy them a year's worth of beans and maize each year, because they cannot dig a garden anymore.